Weddings & Private Events
Artfully remodeled by Johanna and Bill Welter, the historic Featherbone Factory (Three Oaks, Michigan) and American Factory (Valparaiso, Indiana) blend modern conveniences, rustic charm, and industrial spirit. From our handcrafted spirits and locally sourced ingredients, to special events—we focus on genuinely made products and authentic moments.
THE FEATHERBONE FACTORY
Three Oaks, Michigan
The historic Featherbone Factory was established by E.K. Warren in 1883. An ardent prohibitionist, Warren revolutionized the manufacturing of ladies' corsets and buggy whips. Just 5 miles from I-94, Journeyman is located in the quaint village of Three Oaks—the heart of Michigan's Harbor Country. Located 75 miles east from Chicago, 30 miles west of South Bend, and 70 miles south of Kalamazoo, our one-of-a-kind distillery includes a full-service restaurant, gorgeous event spaces, lodging for up to 20 guests, and a 30,000 square foot putting green.
See All Spaces
THE AMERICAN FACTORY
Valparaiso, Indiana
Dating back to the mid-1800s, this site was ground zero for manufacturing in Valparaiso, originally with an 1860s Woolen Mill Company. A dozen or more different manufacturing companies, each with their own interesting history, have called this site home across three centuries, prompting the name "The American Factory Building." The Welter family returns to their roots to revitalize and bring its past back to life. In doing so we hope to provide a world-class venue where guests can share their stories, build their own history, and begin their legacy together with us at The American Factory Building.
See All Spaces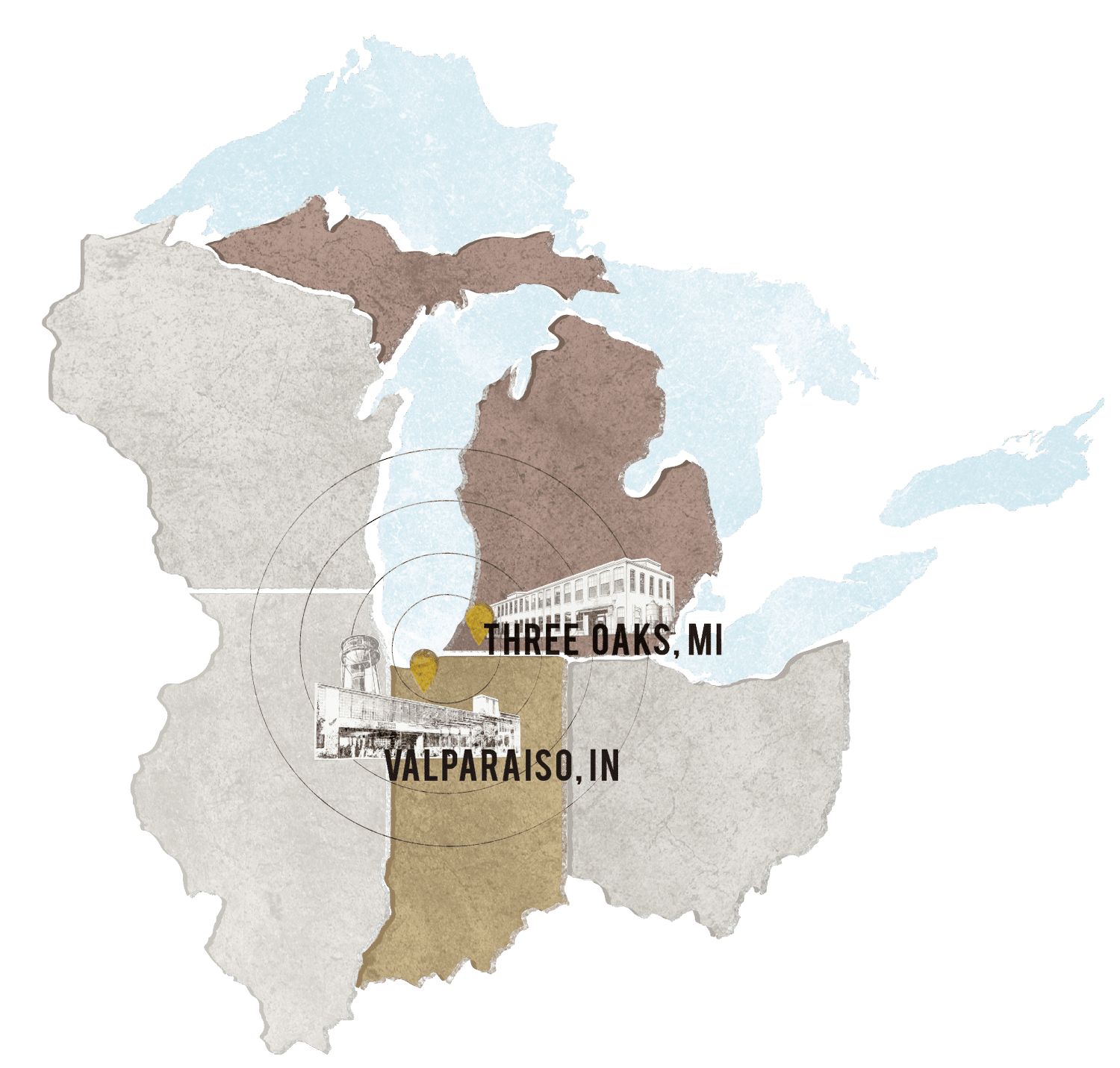 This venue is fantastic! We were married here this past March and had an amazing experience. The venue is beautiful, charming, and the food and drinks cannot be praised enough. We still have guests reaching out about the high quality. Everyone went above and beyond to make sure everything about our day went off perfectly. I highly recommend them to anyone who is looking for a wedding venue.
Ellen S. | March 2022