"Batch #1 Last Feather Rye Cask Strength Single Barrel Release"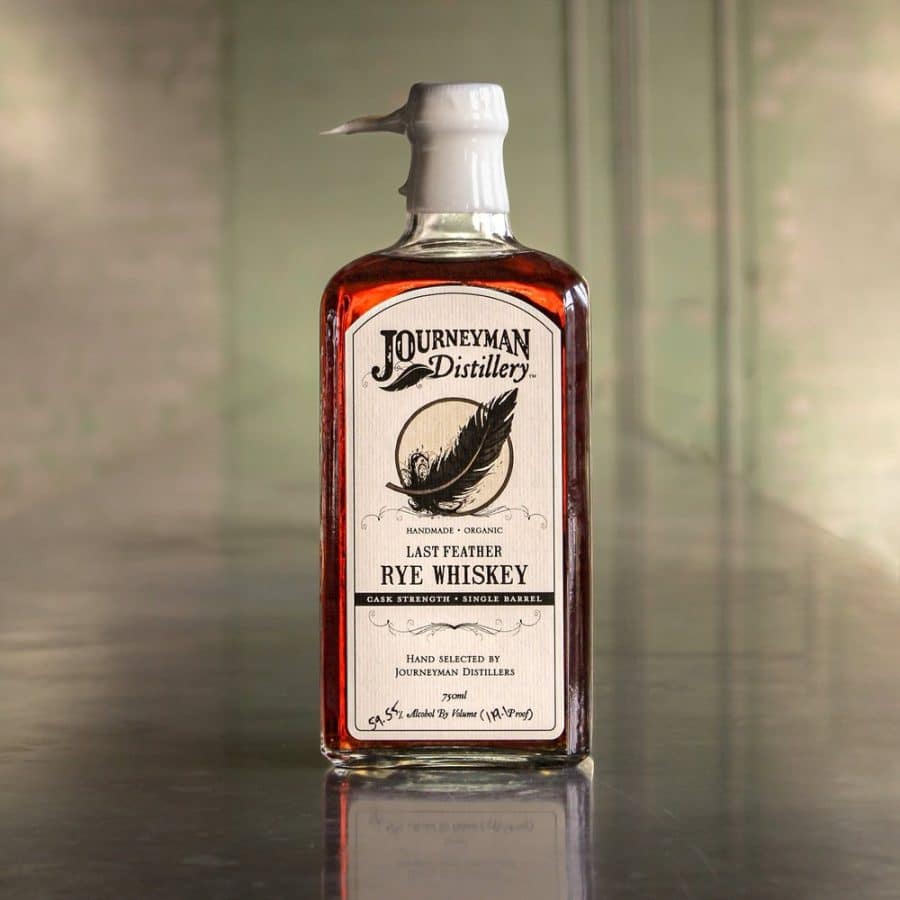 LAST FEATHER RYE CASK STRENGTH, SINGLE BARREL BATCH #1
IT'S LIKE A SIP STRAIGHT OUT OF THE BARREL
THREE OAKS, MI (December 16th 2021) — The wait is over. Batch #1 of our flagship spirit Last Feather Rye, at cask strength from a single barrel, is ready for release.
If you have mystical respect and acknowledge they exist, then shhhh, we not only found a 'honey barrel' hiding in the rows of rickhouse #3, but we're releasing it Saturday, December 18th.
Having been selected unanimously and independently by: Founder Bill Welter, Production Manager Tom Balich, Lead Distiller Matt McClain, Operations Manager Joe Biggs and the production team, it is the real cream of the crop and the best single barrel sampled by this esteemed team. It turns one-of-a-kind into one-of-a-find.
Crafted from the same mash bill as traditional Last Feather Rye, of 60% rye and 40% red winter wheat, this Batch #1 is 4 years old. Certified organic, gluten-free and kosher, it exemplifies the Journeyman ethos.
This LFR single barrel batch is cask strength. It's like having a sip straight from the barrel – not missing anything from the aging process and nothing is added. The mystery is the adventure. The actual proof was revealed, as it was dumped straight from the single barrel, at 117.
With no temperature controls in rickhouse #3, it gets hot in the summer and cold in the winter, accelerating aging and encouraging optimal flavor extraction. This unique single barrel expression came out of a 30g barrel from the Barrel Mill Cooperage in MN. The barrel is made from white oak and has a char level 3. The #3 char typically provides the following tasting profiles that will be present in this special single barrel whiskey: caramel, vanilla, butterscotch, toffee and brown sugar.
The whiskey is a radiant sienna in color with brown sugar and hints of freshly spun cotton candy on the nose. The spice of the rye comes through up front, with a subtle sweetness on the back end. Notes of graham cracker and toffee are present with a trace of cinnamon and allspice followed by a minty sweetness rounding out the whiskey.
"The whiskey has a nice mouth feel and warms the belly on a cold winter day"
– Bill Welter
This Last Feather Rye cask strength single barrel exemplifies the very best of our flagship brand and the very best efforts of the Journeyman team. There is only one Batch #1. You'll know it by its signature white wax seal. Catch one if you can.
This small batch, limited edition is sold exclusively at Journeyman Distillery, Three Oaks, MI beginning at 11:30 ET Saturday, December 18th. 750 ML of Last Feather Rye Cask Strength Single Barrel limited edition available at $64.99.
BARREL 2 – 12.22.21
BARREL 3 – 12.29.21
BARREL 4 – 01.07.22
BARREL 5 – 02.10.22
BARREL 6 – 02.24.22
BARREL 7 – 03.17.22
BARREL 8 – 04.04.22
BARREL 9 – 04.08.22
BARREL 10 – 04.23.22
BARREL 11 – 05.20.22
BARREL 12 – COMING SOON